Australian hurdler Michelle Jenneke is reportedly the front-runner to be Australia's next single lady looking for love on The Bachelorette.
The 24-year-old, who has turned heads with her signature pre-race jiggle, is according to New Idea the gal pitted to take the baton from Sophie Monk on the reality show.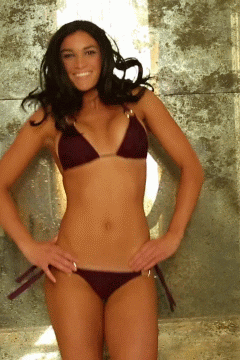 According to the magazine's unnamed spy, "The producers want to sign her… She really is just the sort of person they are looking for… The only issue they see is the fact that Michelle may not even want to be the Bachelorette. That kind of public scrutiny is not for everyone, but they are keen to give it their best shot."
So, we don't know how seriously to take this anonymously sourced claim but, with Nick 'Honey Badger' Cummins locked in to be the next Bachelor maybe producers are going for an athletic theme this year?
The mag also puts Married At First Sight/serial dating show contestant, Davina Rankin as another possible candidate and... pls noooooooooooooo!
Michelle, who went viral in 2012 after her bouncy warm up got more than 20 million YouTube views, has yet to comment on the story and Channel Ten, who make the show, have also stayed mum.
Alls we know is, right now we have to get through the current Bachelor in Paradise dramz before our vapid souls can even THINK about who we want to watch fall in (and out) of love before our very eyes again.