Blake Lively and Ryan Reynolds obvs live to troll each other but recently, when the stars of The Book Club-- a film also released on the same weekend as Deadpool 2-- came out to try and jokingly tempt Ryan into a little tiff, Ryan gave his wife some very sweet compliments.
Whilst at his superhero movie premiere on Monday night (May 14), a reporter on the red carpet asked him about how he felt about box office competitor, Diane Keaton calling him "Mr. Lively"-- a question he had the perfect response to.
"Oh, I'm Mr. Lively 24/7," Ryan said. "And I'm happy about it. It's great. [It's the] best gig."
Nawwwwwww...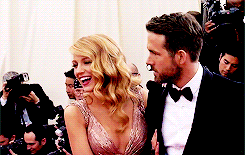 It seems after five years, two daughters, and equally busy careers, Ryan is still gushy about his wife; case-in-point his recent chat with Vanity Fair.
"My family is everything to me," Ryan told the publication. "[Blake has] immeasurably made my life better. She's my best friend. I absolutely love and respect her. She's the best thing that's ever happened to me."
On that note, here ladies and gents is the beautiful timeline of Blake Lively and Ryan Reynolds brutally trolling each other to death on the internet for our scrolling pleasure...