Warning: reading this article will probably make you do this:
If you work your damn ass off every damn day and know the struggles of adulting, then this little viral "sensation" must really grind your gears.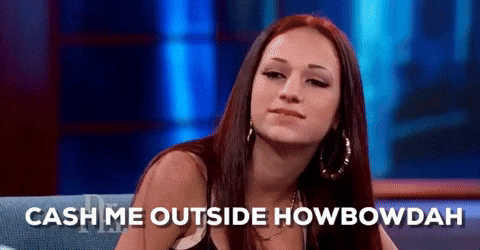 Danielle Bregoli, also known as the 'Cash Me Ousside' girl who talked smack to Dr. Phil, got famous overnight for her weird accent and the fact that she's 13-years-old and acting like THAT.
Since, she's gone on to produce merchandise, model, and fight anyone in her way. Literally.
But her weird success has brought her more than online ~attention~. Girl is raking in $30,000 or MORE per meet and greet, according to TMZ.
She is asking for a minimum of $30,000 in the US, and $40,000 if she has to leave the country.
K.
To rub it in even more so, Danielle is supposedly making an appearance at the Rolling Loud Music Festival in May, where she is expected to make even more than $40,000. Hahahahahahahahaha.
All she had to do was say one fucking phrase and she's fucking rich. Fuck.